Sea Fishing in Ireland
The island of Ireland has for many years been recognised as one of the Worlds premier sea angling destinations. The 3000 km coastline is among the most varied and spectacular in the northern hemisphere with it's hundreds of tranquil bays and backwaters, roaring surf beaches, and miles of awe inspiring sea cliffs. The diverse nature of the coastline and Ireland's unique geographical position, on the edge of the European continental shelf, where the inshore waters are warmed by the North Atlantic Drift (an offshoot of the Gulf Stream) means that the native marine life is extremely rich and varied. The coastal waters of Ireland abound with fish and visiting sports fishermen can expect something in the region of 80 species to aim at, so anything from a blenny of a few grams to a bluefin tuna of over 400 kg can be expected!
Ireland as a Sea Angling Destination
Sea Angling in Ireland can be divided into three distinct categories:
Shore Angling: (spinning, fly fishing, bottom fishing) from beaches, rocks, estuaries, quays and piers. This is probably the most widely practiced form of sea fishing, and is enjoyed all round the coast, being most popular south of a line from Galway to Dublin.
Inshore Angling: (trolling, bottom fishing and spinning) from our range of self drive small boats up to 6 metres (20 feet) in length, in bays and sheltered waters, generally less than 5km (3.5 miles) from land. This is the fastest growing branch of marine sport fishing in Ireland, and from its traditional bases on the eastern and southern coasts is rapidly growing in popularity and spreading to other areas.
Offshore or Deep Sea Angling: (trolling, bottom fishing, wreck fishing, and drift fishing for shark) from purpose built charter vessels of 9 metres (30 feet) and over, and capable of carrying 12 passengers up to 32km (20 miles) offshore. This is the form of fishing on which much of Ireland's international sea angling reputation has been built. It is most popular in the south-west, west and north-west of the country.
Pike Angling
Ireland has quality pike fishing to offer the visiting angler and a supporting tourist infrastructure which will help you to catch that pike of a lifetime. Pike anglers visiting Ireland often target our huge network of pike lakes, many of which are concentrated in the Shannon and Erne River Catchments. There are lakes to suit every type of pike angler from smaller lakes like Castle lake and lakes in the Lough Oughter complex in Cavan, to some huge lakes like Loughs Derg, Ree and Erne.
Salmon and sea trout fishing in Ireland
If you've ever dreamt about catching a salmon or sea trout in Ireland and wondered how to turn your dream into reality then the answer is at your finger tips.
With a huge network of rivers and loughs, Ireland is the one of the few last refuges for wild salmon and sea trout attracting anglers back year after year.
We can advise you on the best that Ireland has to offer, the best times to fish and suggested methods to help in the pursuit of this noble quarry.
Salmon and sea trout anglers can use a wide range of methods including, bait, spinning and fly fishing to pursue their quarry.
We can get you access to the Rivers where the fishing is normally divided into beats managed by the Regional Fisheries Boards, private fisheries or local angling clubs.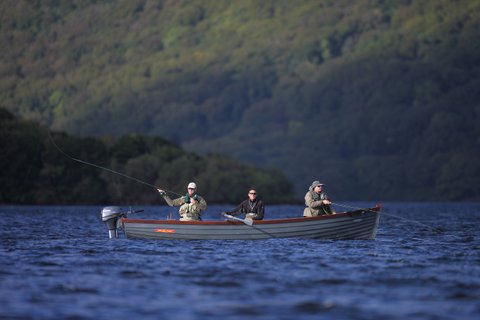 When to go
Salmon fishing opens on January 1 on a handful of rivers and after that the remainder of rivers open on various dates in February, March, April and May. The majority of rivers close on September 30th but some rivers remain open for sea trout fishing to October 12.
Coarse Fishing in Ireland
If you've ever dreamt about a coarse angling trip to Ireland and wondered how you can turn that dream into reality, then the answer is at your fingertips. Picture yourself with your first 100 lbs. (45kg) plus catch of bream or winning one of the many angling festivals such as The King of Clubs. Begin planning your coarse angling trip with us and let our resident expert guide provide you with information about where to go. With our huge network of rivers, loughs and canals to explore, Ireland is the one of the world's premier coarse angling destinations.
Trout Fly Fishing in Ireland
With a huge network of rivers and loughs, Ireland is the one of the few last refuges for truly wild trout attracting anglers back year after year. Our expert guides can provide you with information on Irish fishing conditions, where to find specimens and suggested methods to help in the pursuit of that catch of a lifetime.
Ireland has 16,000 km of main river channel and 10,000 km of tributary which are unspoilt and relatively unpolluted. They provide ideal habitat for trout. In addition, there are in excess of 500,000 acres (200,000 ha) of loughs.
Most trout fisheries open between February 15th and March 1st and close on September 30th with some exceptions that close on various dates between September 15th and October 12th. Some clubs may have their own regulations on opening and closing dates.
Contact Us today to book your Angling holiday of a lifetime.